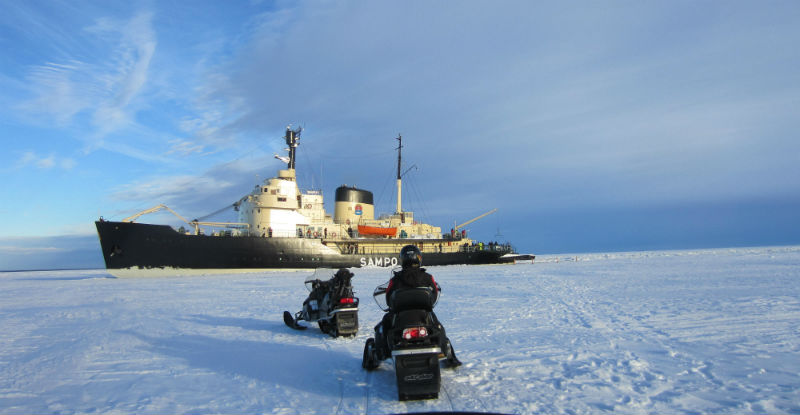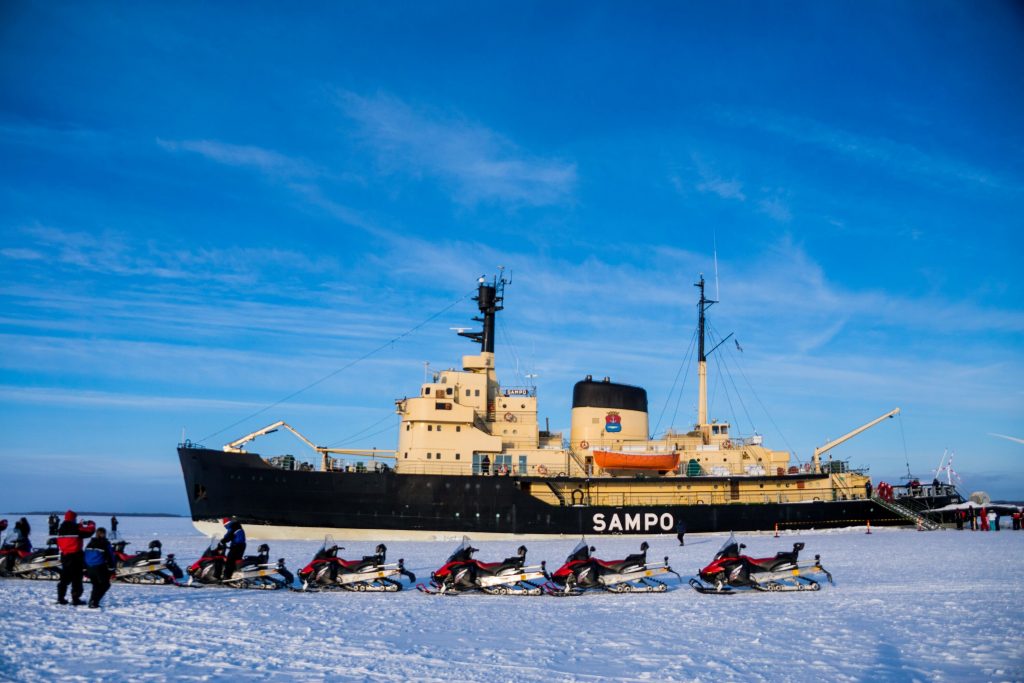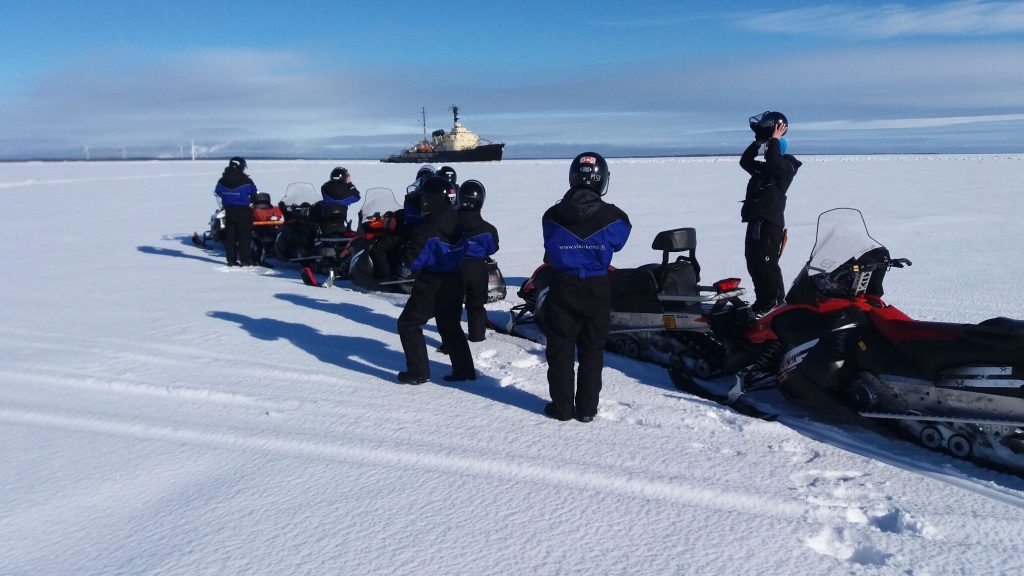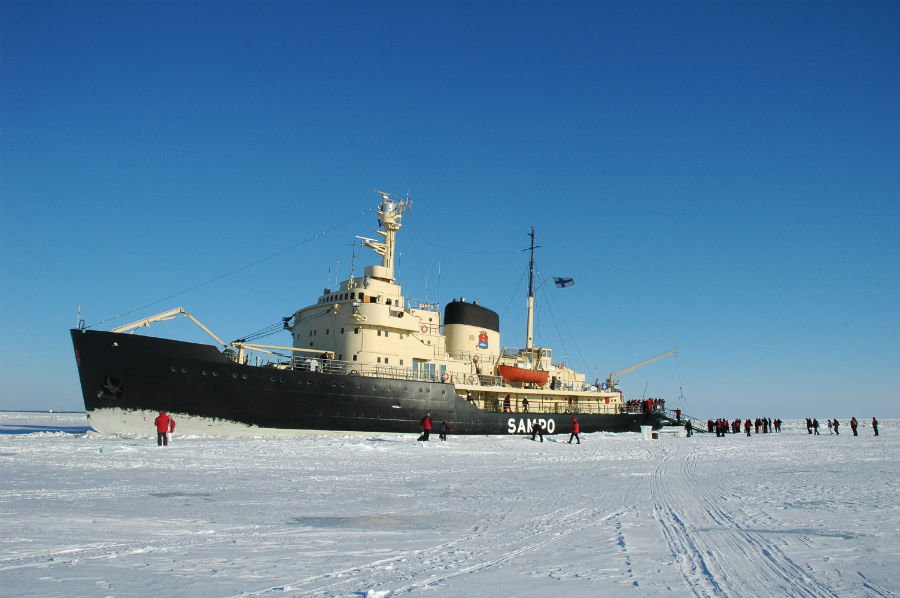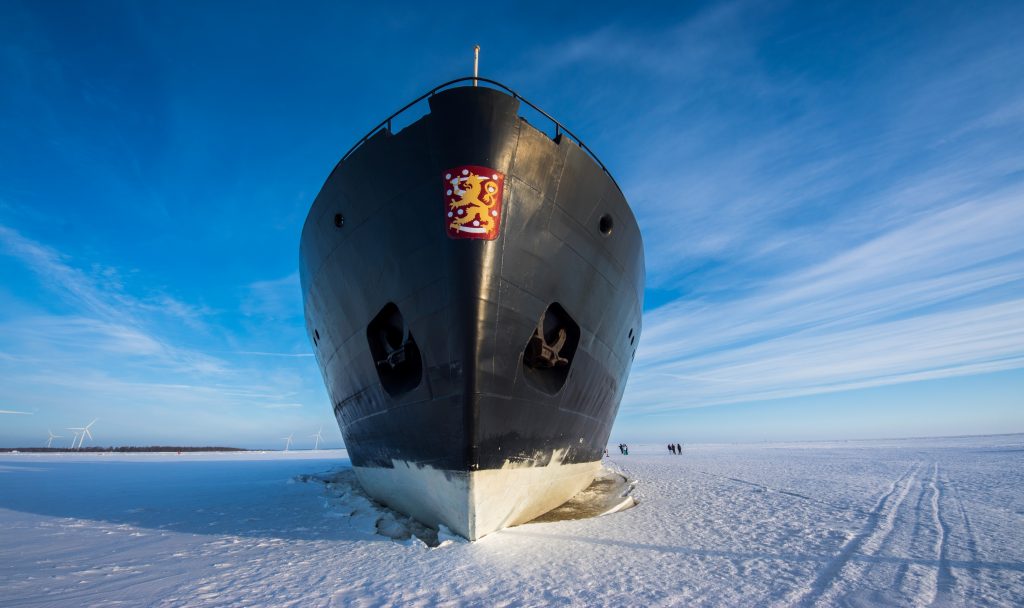 This is our most popular safari!
Snowmobile Safari including a cruise on  Icebreaker Sampo.
The Icebreaker Sampo runs at the northern Gulf of Bothnia in Finnish Lapland. This vessel is the first icebreaker in the world operating for tourists. After serving on Arctic waters, Icebreaker Sampo was given a new, more fascinating task – to offer remarkable experiences to eager winter adventurers.
Snowmobile safari takes you through the beautiful frozen sea towards the Icebreaker Sampo that is anchored in the middle of the frozen sea. We will get onboard and the crew will tell us about how the ship functions from the captain's conning to the engine room. We'll witness how the ice that can be up to one meter thick, breaks on the sides of the ship. We will also try winter swimming safely wearing special warm dry suites, and have a meal in the cosy restaurant of Sampo. After the cruise we will continue the snowmobile safari back to Kemi.
This will be an unforgettable life experience!
2 cruise options are availiable: 3hours cruise without meal and 4hours cruise with meal on board.
Details
Prices
0-2 years old children – free of charge
Minimum:  2 persons pays full price
Duration: 4,5 or 5,5 hours
(includes about 2 hours snowmobile safari and a 3 – 4 hour cruise)
Time:  according to Sampo cruises timetable
Distance: max 30 km (snowmobile safari)
The snowmobile safari starts at the Safari House where you will be provided complete snowmobile equipment.
The price includes:
pick up from your hotel in Kemi/Tornio
snowmobile safari from Kemi-Sampo-Kemi (including safari equipment:: snowmobile suit, wool socks, snowmobile boots, mittens, undercap and a helmet.)
Icebreaker Sampo cruise
guided tour on the ship or ship presentation on 3h cruise
floating in the sea, survival suits provided
lunch (buffet) included with 4hours cruise
Sampo Icebreaker Diploma
Please note that for floating minimum height is 145 cm
Self-liability is max EUR 800/person/snowmobile/accident.
NOTE: The following information is required from all participants to complete the booking:
First name and surname

Gender

Date of birth

Nationality
Location: Kemi
Terms and conditions
Booking conditions:
The reservations should be made in advance preferably 90 days before cruise. Sampo activity is very popular and many dates are fully booked 1 year before departure.
for your reservations, please provide us with the following information for each participant: forename, surname, gender, nationality, and the date of birth.
Programs are organised with min. 2 attendants.
You will be picked up by Taxari Travel guide from your hotel in Kemi or Tornio.
The driver of the snowmobile should be at least 18 years old with a valid driving licence.
---
Children
Child discount on snowmobile programs is applicable for 3-11 year old children.
0-2 year old children – free of charge.
---
Guiding
Safaris and excursions are guided in English/Finnish, other languages upon request.
---
Insurance
The driver of the snowmobile should be at least 18 years old with a valid driving licence.
Snowmobiles are insured according to the Finnish Traffic Insurance Act.
Personal travel insurance is recommended.
Driver's self-risk for snowmobile vehicle damages is max. 800 €/ accident case.
---
Thermal clothing
Snowmobile safari guests will be completely equipped with thermal clothing: overalls, boots and socks, undercaps, gloves and helmets.
---
Floating
Due to safety reasons only about 15 passangers are allowed to go floating at the same time. Your personal floating time is noted in the tailored cruise timetable you will receive upon arrival. Floating event is voluntary but we highly recommend it for it is utterly unique experience.
Please note that for floating minimum height is 145 cm.
The cruise staff will help each client to dress up in the impermeable survival suit. Please remember: in the middle of the icy sea you be able only to float, but not to swim! The staff will be close to you at all times.
---
Weather conditions
Snowmobile safaris are subject to change due to weather conditions. As a responsible safari organiser Taxari Travel Agency Ltd reserves the right to change the routing, pricing and the duration of the excursions without prior announcement.
---
Pricing
All prices are quoted in Euros (€) and include Finland's Value Added Tax.
---
Confirmation
When the reservation is confirmed, proforma invoice will be charged. Reservation is confirmed when the payment is made.
In case the payment is not received in due date, we have the right to cancel the reservation.
---
Terms of payment
100% deposit to be charged when confirming the booking.
---
Cancellation rules
More than 91 days prior to arrival – 10% reservation fee to be charged.
90-31 days prior the arrival: 50% from the total amount to be charged.
Less than 30 days prior the arrival: 100% from the total amount to be charged.