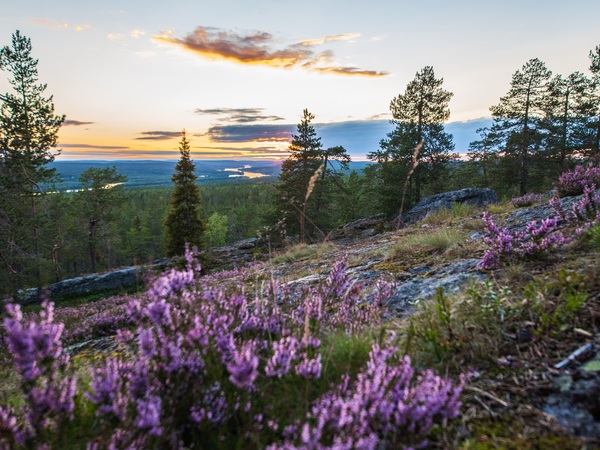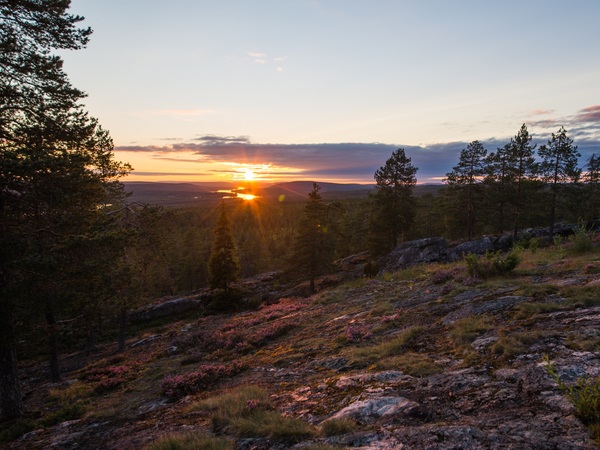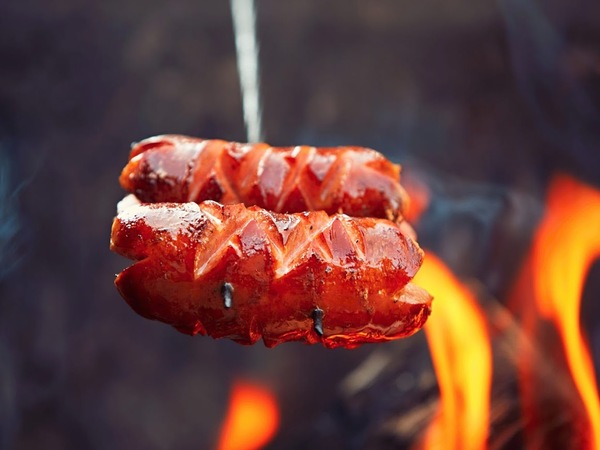 The midnight sun is a natural phenomenon that occurs in the summer months in places north of the Arctic Circle, when the sun remains visible at the local midnight.
A wonderful night adventure for unique natural phenomena lovers. Our tour takes you up to the top of the Santavaara Hill. A trip from the Rovaniemi city center will take not more than 25 minutes. The path leads through small birch forests and it takes about 30 minutes of walking until we reach the top of the mountain above the treeline. The route is relatively easy but requires good basic physical fitness. 
On days with good weather, the view up here is incredibly beautiful. The sun shines even at night, but it does not heat very much. Therefore, your professional guide will set up a fire for you, using the classic method of mining fire – flint and bark of a tree. We will use campfire not only for heating, but also for cooking. Delicious and simple midnight snacks will be prepared by your guide. The Lappish wild berries nurtured by the midnight sun are also healthy, and can be eaten just as they are when you find them. Just imagine: you are in Lapland, on top of Santa Claus Hill, under the midnight sun – this is an excellent occasion to celebrate that moment and drink a glass of sparkling wine. Cheers! 
If we are lucky, we will be able to see wild Arctic animals: reindeer, moose, forest birds.
You will have enough time to enjoy nature and make amazing photos.
A perfect tour for outdoor enthusiasts who don't want to waste time in a fabulous summer Lapland.
SPECIAL TERMS:The tour is family friendly.
Details
Prices
Time: 22:00 -01:30
Day:  Every day 
Minimum: 2 persons (paying a full price)
Season: June – September
Location: Rovaniemi
Prices include: Hotel pickup & drop off, Professional naturalist guide, Snacks & beverages by the open fire
Menu 1: Finnish sausages, tea, coffee, cookies
Menu 2: Vegetables course, tea, coffee, cookies
Terms and conditions
Booking:
The reservations should be made preferably 2 days in advance.
Program is organised with min. 2 persons.
---
Children:
0-3 year old children, free of charge.
4-13 year old children get child discount.
---
Guiding:
Excursion will be guided in English/Finnish, other languages upon request.
You will be picked up by our guide from your hotel at Rovaniemi.
---
Pricing:
All prices are quoted in Euros (€) and include Finland's Value Added Tax.
---
Confirmation:
When the reservation is confirmed,  proforma invoice will be charged. Reservation is confirmed when the payment is made.
In case the payment is not received in due date, we have the right to cancel the reservation.
---
Terms of payment:
100% deposit to be charged when confirming the booking.
---
Cancellation rules:
More than 31 days prior to arrival – 10% reservation fee to be charged.
30-14 days prior the arrival: 50% from the total amount to be charged.
Less than 14 days prior the arrival: 100% from the total amount to be charged.