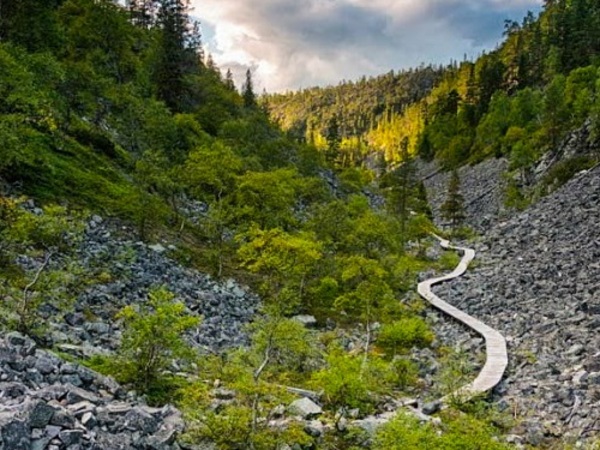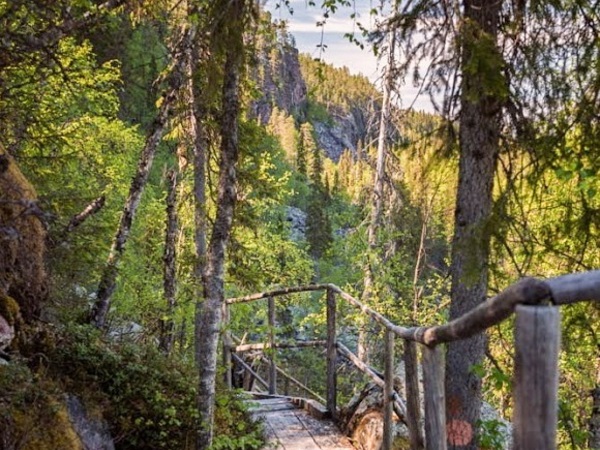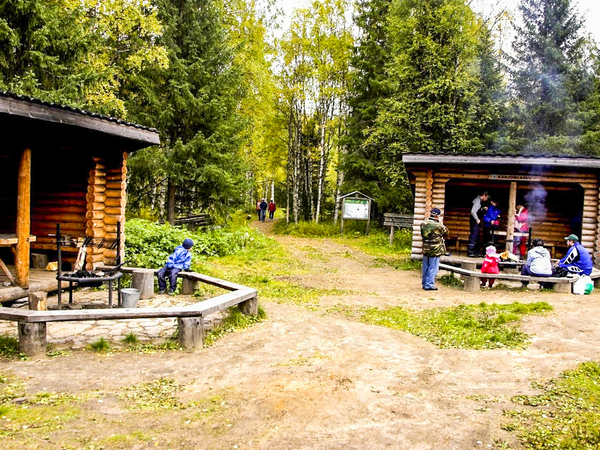 KOROUOMA NATIONAL PARK & GUIDED HIKING TOUR 4.5KM, HALF-DAY TOUR
You don't need any experience or special equipment to come with us on this tour, just a sense of adventure. Just bring the recommended clothing, backpack, and camera and we'll provide everything else. 
Our shuttle will transport us to the right place. Road takes approximately 1 hour 20 minutes one way. Photo stops can be made along the way to capture the stunning views of this scenic Lappish nature and its surrounding.
We start on a well-maintained national park trail and proceed 4.5 kilometers along the canyon. This portion of the trip takes about two – two and a half hours. During the hike, our knowledgeable guides identify many of the native plants and flowers. Quite frequently we see reindeer, moose, red fox along the way.  Upon arrival to the forest camp, snacks will be offered by the open fire. 
Korouoma is a 30-km-long fracture valley running from northwest to southeast on the border of the municipalities of Posio and Ranua. It is part of a fracture zone which is hundreds of millions of years old. In the centre of Korouoma the fracture valley forms a canyon that has worn its way into the surrounding terrain. At its deepest the gorge is approximately 100-130 metres deep. Its cliff walls are tens of metres high and extremely steep and at points vertical. The bottom of this canyon is level and it is 200 to 500 metres wide. Parts of the canyon have become boggy and the narrow twisting River Korojoki meanders through it.
Details
Prices
Time: 09:00 -14:00
Day:  Every day 
Minimum: 2 persons (paying a full price)
Season: June – September
Location: Rovaniemi
Prices include: Hotel pickup & drop off, Transportation during your journey, Guided hiking 4.5 – 5km trip, Complimentary snacks by the open fire , Hot beverages
Menu 1: Finnish sausages
Menu 2: Vegetables course
SPECIAL TERMS:
The tour is not suitable for young children. The route is relatively easy but requires basic physical fitness.
Terms and conditions
Booking:
The reservations should be made preferably 2 days in advance.
Program is organised with min. 2 persons.
---
Children:
0-3 year old children, free of charge.
4-13 year old children get child discount.
---
Guiding:
Excursion will be guided in English/Finnish, other languages upon request.
You will be picked up by our guide from your hotel at Rovaniemi.
---
Pricing:
All prices are quoted in Euros (€) and include Finland's Value Added Tax.
---
Confirmation:
When the reservation is confirmed,  proforma invoice will be charged. Reservation is confirmed when the payment is made.
In case the payment is not received in due date, we have the right to cancel the reservation.
---
Terms of payment:
100% deposit to be charged when confirming the booking.
---
Cancellation rules:
More than 31 days prior to arrival – 10% reservation fee to be charged.
30-14 days prior the arrival: 50% from the total amount to be charged.
Less than 14 days prior the arrival: 100% from the total amount to be charged.