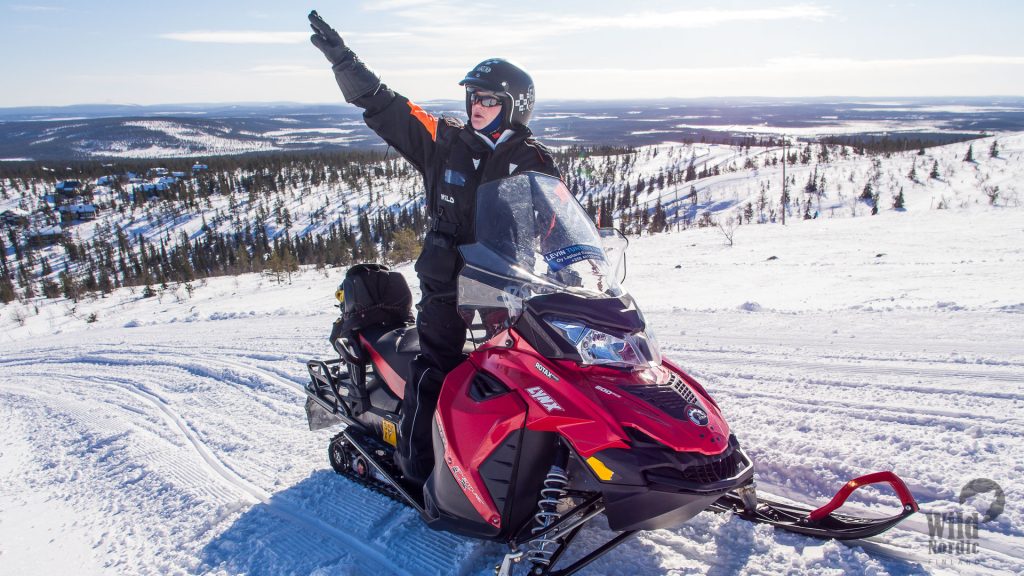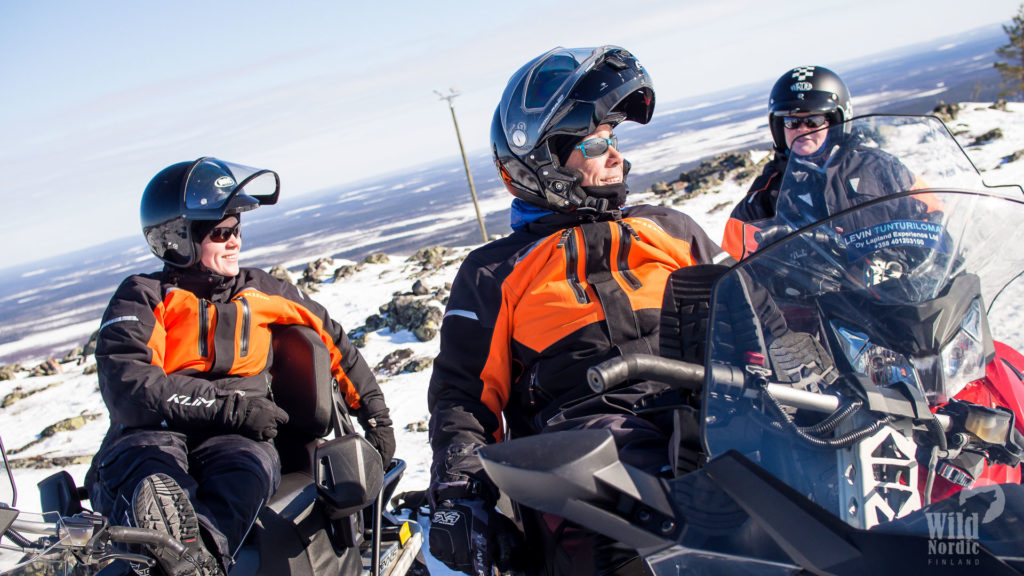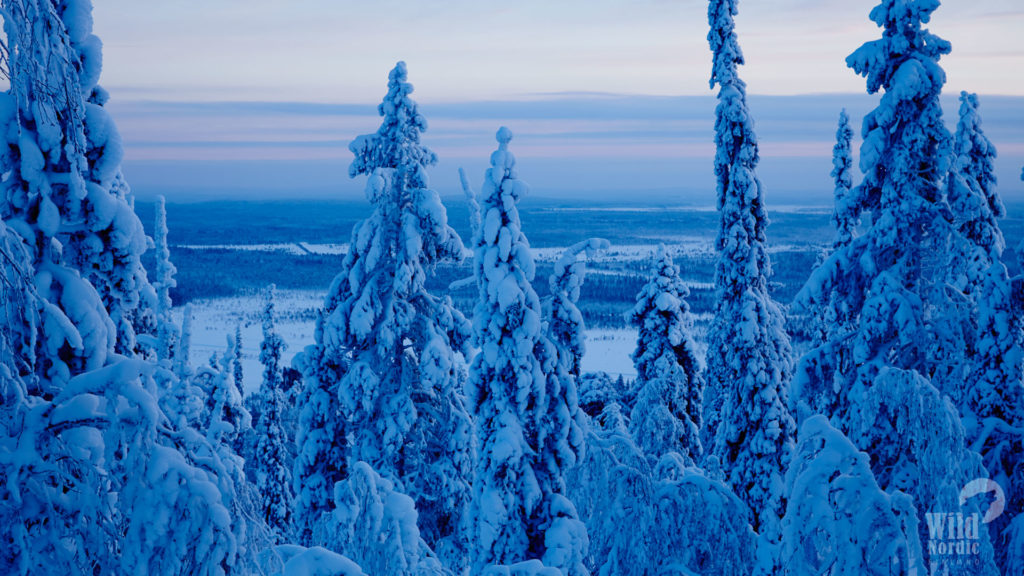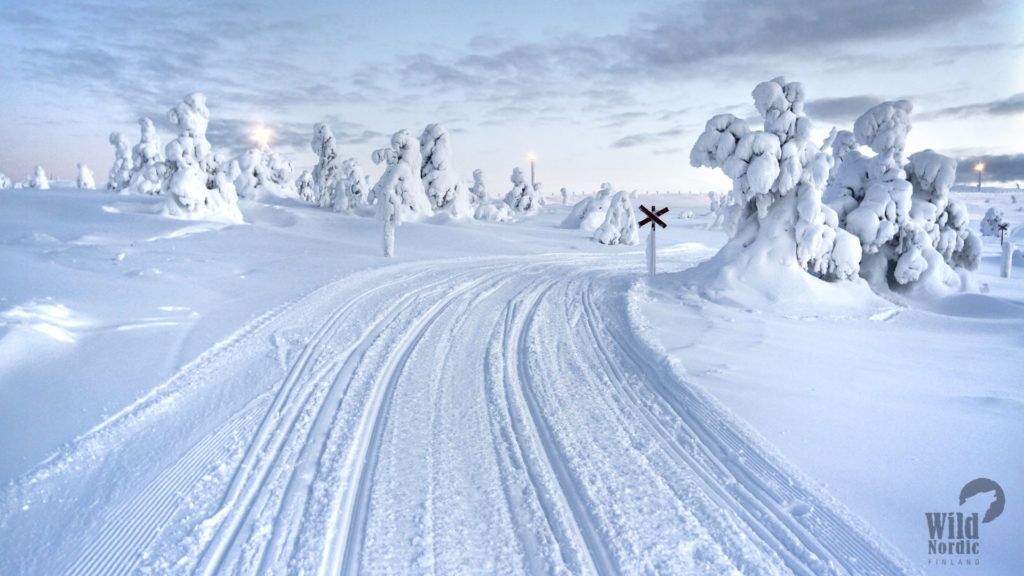 Welcome to the Wilderness snowmobile safari, which will give you a chance to ride your own snowmobile near Levi area! Certainly You will enjoy the wilderness wintery scenery whilst driving through the local forests and landscapes. First of all You will have great opportunity to take unforgettable photos during short stops we will make. Lapland is snowy wonderland at winter time. You have chance to enjoy Wilderness snowmobile safari experience! Let´s go! 
The duration of the safari is 2 hours, including preparations. The riding time on snowmobiles is approximately 1 hour and 30 – 40 minutes.
The average speed of snowmobiles during our short tours is limited due to the safety and traffic regulations. Two adults ride on one snowmobile, there is an option of single riding for an extra charge. Children are traveling in the sleigh pulled by the guide's snowmobile.
Details
Prices
4 – 14 years old ( in the sled behind the snowmobile)
Person under 14 years old is considered as a child
Time: 12.00-14-00
Day: Every day
Duration: 2 h
Minimum: 2 persons paying  the full pice
Season: December – April
Distance: max 40 km
Price includes:  guiding in English/Finnish and rental of complete rental  safari' s outfit  (thermal clothing, overalls, boots , socks, undercap, gloves and  helmets).
Location: Levi
Self-liability is max EUR 900/person/snowmobile/accident.
Terms and conditions
Booking conditions:
The reservations should be made preferably 2 days in advance.
Programmes are organised with min 2 attendants (min. 2adults).
---
Children:       
Child discount on snowmobile programs is applicable for 4-14 years old.
Guiding and meeting point:
Safaris and excursions can be guided in English/Finnish. It is the customer's responsibility to know basic English in order to understand the instructions.
If the customer does not understand any of the instructions, Wild Nordic shall reserve the right to refuse the customer ́s participation based on safety concerns and necessity to communicate in English during any emergency situation.
Tours start from Safari Club located next to Levi Tourist Info (Myllyjoentie 2, 99130 Levi).
Please arrive 15 minutes before the departure of your tour. No refund of the tours will be made if the customer misses to arrive on time. We have the
right to charge reasonable expenses arising from such neglect to follow the timetable of the program.
---
Insurance:
The driver of a snowmobile has to be at least 15 years old and hold a valid A
or B driver's license (i.e. car or motorbike). The driving license must be valid in EU countries. Customers shall bring their valid driving licenses for participating in snowmobiling.
The snowmobile driver is held liable for any damages caused to the
snowmobile. The customer is held liable for a maximum liability of 900 €
per person in case of accident. If the customer purchases insurance from
safari company for 15 € (subject to change as advised by Wild Nordic), then the
maximum liability of the customer shall be reduced to 150 € per person.
Customers are highly encouraged to purchase personal travel insurance
(which covers insurance for the activities to be participated);
If a customer suffers from illness or disabilities (such as heart disease, asthma, diabetes, epilepsy, back or hip problems) that could affect his/her ability to take part in the activities or that she is pregnant, he/she shall prior to participating in the activities consult medical experts as to his/her suitability to participate in the activities. The customer shall acknowledge that he/she participate in the activities to be offered in the Services at his/her own risk in the case that
he/she suffers from such illness or disability or pregnancy
If a customer is recovering from any illness or the effects of alcohol and/or drug consumption or have recently had any major illnesses or surgery, safari provider shall reserve the right to refuse the customer ́s participation based on safety concerns. We have 0 tolerance for alcohol and drugs during the activities.
Snowmobile safaris are not suitable for pregnant women due to vibrations as a result of uneven tracks and the presence of exhaust fumes of the snowmobiles.
Safari company shall not be responsible for any valuables of the customers left in the public area /office facilities while participating in the activities.
---
Outfit:
Snowmobile safari guests will be equipped with complete outfit, thermal clothing: overalls, boots ,socks, undercaps, gloves and helmets.
---
Weather conditions:
Snowmobile safaris are subject to change due to weather conditions. As a responsible safari organiser Taxari Travel Agency Ltd reserves the right to change the route, price and the duration of the safari trip without prior announcement.
---
Pricing:
All prices are quoted in Euro (€) and include Finland's Value Added Tax.
---
Confirmation:
When the reservation is confirmed, 100% proforma invoice will be charged. Reservation is confirmed when the payment is made.
In case the payment is not received in due date, we have the right to cancel the reservation.
---
Terms of payment:
100% deposit to be charged when confirming the booking.
---
Cancellation rules:
More than 31 days prior to arrival – 10% reservation fee to be charged.
30-14 days prior the arrival: 50% from the total amount to be charged.
Less than 14 days prior the arrival: 100% from the total amount to be charged.