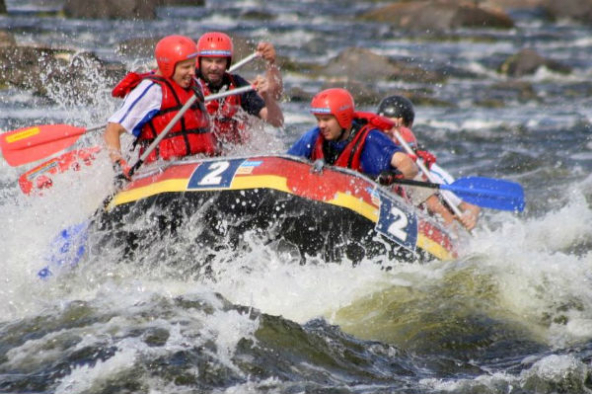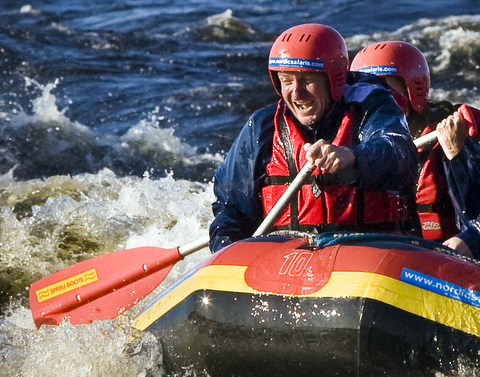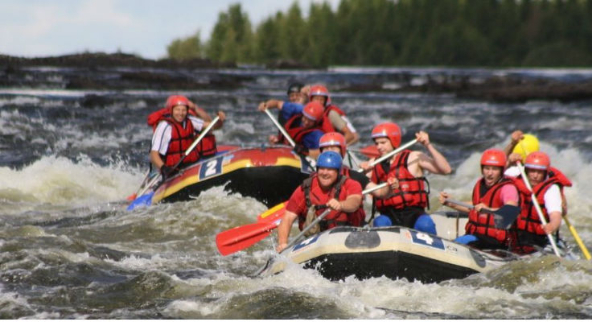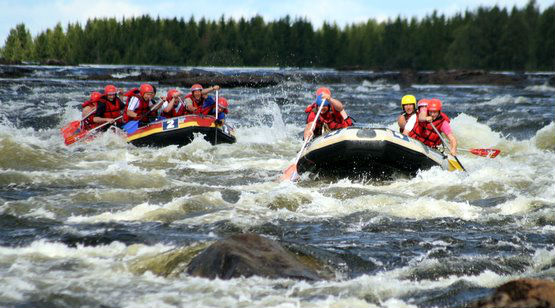 Shooting the rapids is done in a rubber boat, and the customers participate on steering by paddling. The activity starts by going through safety and paddling instructions. Waterproof clothing, rubber boots, safety vests and helmets will be handed out to the participants. The first shooting is called the "basic track", and it follows the Finnish-Swedish border which is also where the river runs deepest. The second run will be an action track if circumstances allow. The first task of the track is to stop the raft on a back current. After that the raft is paddled along a fast track, which runs through the best waves of the river. The tasks are quite challenging. The total duration of the event is approximately 2 hours.
Details
Prices
+ transportation cost depending on the location of accommodation.
Day: Tour is on request  info@taxari.com
Duration: 2 hours
Minimum: 6 participants
Season: June – October
Terms and conditions
Booking:
The reservations should be made preferably 7 days in advance.
Programs are organised with min. 6 attendants.
---
Participating:  
Safari participants are expected to be in normal physical condition.
Safari participants need to be at least 15 years of age; a person under 18 years of age may participate shooting the rapids with their parent.
---
Rapids:
Class III (summer)and Class IV & V (spring tide) depending on river levels.
---
Guiding:
Safaris and excursions can be guided in English/Finnish.
We use licensed river guides.
---
Insurance:
Personal travel insurance is recommended.
The participants should ensure that their insurance also covers possible damages sustained while shooting the rapids.
Responsible company has a certified quality system and safety and environmental management system based on the standard SFS-EN ISO 9001:2000.
We use self bailing rafts.
---
Clothing:
All necessary rafting equipment, waterproof clothing, rubber boots, life jackets, helmets and wet suits if needed.
---
Weather conditions:
Excursions are subject to change due to weather conditions. Weather conditions and changes in water depth may change schedules or routes on the rapids, or prevent shooting the rapids altogether.
As a responsible tour operator Taxari Travel Agency Ltd reserves the right to change the routing, pricing and the duration of the excursions without prior notice.
---
Pricing:
All prices are quoted in Euros (€) and include Finland's Value Added Tax.
---
Confirmation:
When the reservation is confirmed, 100% proforma invoice will be charged. Reservation is confirmed when the payment is made.
In case the payment is not received in due date, we have the right to cancel the reservation.
---
Terms of payment:
100% deposit to be charged when confirming the booking.
---
Cancellation rules:
More than 31 days prior to arrival – 10% reservation fee to be charged.
30-14 days prior the arrival: 50% from the total amount to be charged.
Less than 14 days prior the arrival: 100% from the total amount to be charged.